American roulette is a game which is really similar to the French roulette game. The difference between these two games lie in the two green spots at the American roulette game. These spots carry the numbers 0 and 00. This is to enlarge the chance of winning for the casino from 1/37 to 1/19 and 1/74 on single bets. The characteristic part of the American roulette game is that every player plays with its own coloured chip. The player can determine the value of its own chip by telling this to the croupier. The order in which the numbers are ranked is also different to the French roulette game. The part in which both American and French roulette games are the same is the colour of the numbers.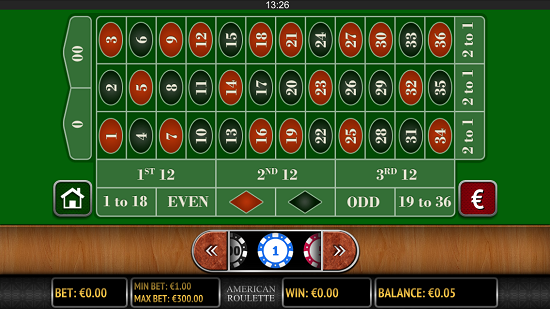 American roulette is played under supervision of one croupier, this instead of the 3 croupiers in France, which will take lesser bets from the players than the traditional French croupiers will. The casino in which the American roulette game is played makes more money, because of the higher amount of speed of the game. The lower amount of personnel for the game also contributes in the casino's money saving mood. Another difference between the American and the French roulette game is that the American roulette game has its own coloured jettons, which makes it more complicated for players to defraud.
The major difference between the American and the French roulette game is the presence of the 00 and the absence of the "en prison" rule in case of "real" American roulette, so that all the single odds are completely lost as 0 or 00, instead of the insert with the bench is shared, as with French roulette and American roulette with a French barrel. The house edge of the US wheel is 5,26%, for European roulette the house edge is 2,7%. Si if you want to win you could better play French or European roulette!