European roulette is a casino game named after the French word meaning ''little wheel''. In the game, players may choose to place bets on either a single number or a range of numbers, the colours red or black, or whether the number is odd or even. To determine the winning number and color, a croupier spins a wheel in one direction, then spins a ball in the opposite direction around a tilted circular track running around the circumference of the wheel. The ball eventually loses momentum and falls onto the wheel and into one of 37 (in French/European roulette) or 38 (in American roulette) coloured and numbered pockets on the wheel.
| Casino's | Table game specials | Account |
| --- | --- | --- |
| | Deal or no Deal, Mini, high limit & 3D roulette | Play now |
| | European Gold & Premier Roulette Diamond | Play now  |
| | Play table games with Bitcoin or Litecoin | Play now  |
| | 15 different roulette games | Play now |
A roulette player has various ways of making his or hers bet. He or she can bet on a single number but also on multiple numbers at the same time. When one of the numbers the player has chosen falls he or she wins. This player than can keep the chip and receives (36/n)-1 chips from the bank. N stands for the amount of numbers the player has bet on. The player will lose his chip when none of the number or numbers fall.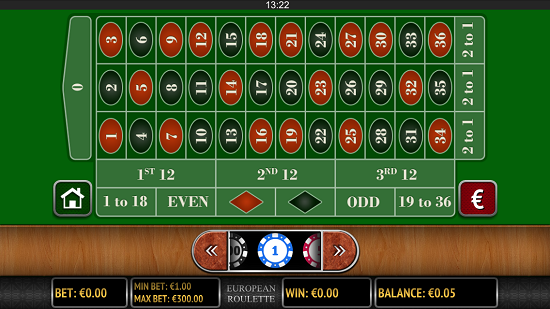 Difference between European and American roulette
The difference between European and American Roulette is the grouping of the roulette table. American Roulette has two 00 spots and the European only has one. This means the European roulette game will give the player a higher chance of winning, looking at it from statistical point of view. When thinking of a 'plein' or a 'straight bet', which is a bet on a single number, the chances of the European roulette game are 2,7% and the American 2,63%. This seems to be a minor difference but knowing the profit will be paid 35 times the disadvantage on the French is 2,7% and on the American 5,26%. To make it even more clear, on every 1,000 Euro that is wagered the casino gets 27 euro and for every 1,000 US Dollar the casino will receive 52,60 dollar.
Besides the American and the European versions of Roulette there are some other versions. Examples of other versions are; Mini Roulette, No Zero Roulette and Cheval. There is a list down below of some different Roulette games and the way people should wager at these games.