Croupier is a special profession with several advantages. For example, often get big tips. Did you know that some croupiers working in high quality casinos can even live from tips? It's not common though. Whether you get big tips or not, being a croupier is pretty awesome. What is the main task of a croupier and how do you become one? We tell you all about it in this article!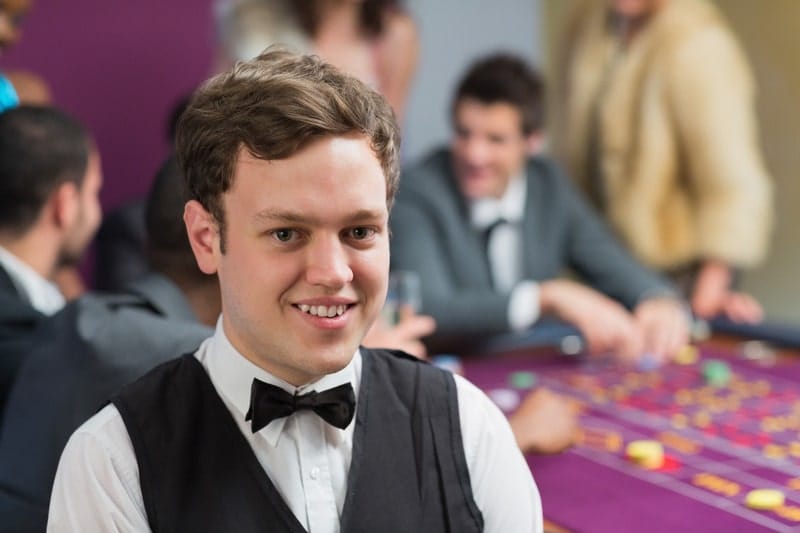 What is a croupier?
A croupier works in a casino, but he or she plays a neutral role during a game. He ensures that the game is fair and that everyone follows the rules. The croupier guides in a subtle, but prominent way. As a player you can play your own game and focus on your strategy. But without a croupier the game would be less smooth, so his or her presence is absolutely needed. Who else checks if everything goes well and if everyone plays in a fair way?
Tasks of the croupier
The croupier makes sure that as a player you can enjoy the game to the fullest, whether it's Blackjack, Roulette or Poker. Another important task is to take care of the payment of the winnings. A croupier works with a certain regularity. So don't think that a croupier just does something. There is a system behind all his actions. For a croupier, the rules are very important. He or she uses a certain procedure to execute them and under no circumstances can be deviated from this.

Tip for the croupier
As we mentioned earlier, the tip for a croupier is very important. It is a large part of his salary. In the casino world it is common practice to tip the croupier when he wins. The croupier then responds with the French sentence: 'merci pour les employés. That means 'thanks on behalf of the staff'.
Where can you become a croupier?
Becoming a croupier sounds is a dream for many people. Perhaps you've thought about it as well. The beautiful suit, the central role at the gaming tables and the possibility to be part of an exciting game with lots of money makes that a lot of people like to become a croupier. We have good news: you can make it reality! You need to have specific skills such as great concentration and professionalism to make it possible. You can become a croupier at different casinos. The training to become a croupier is provided by the casinos themselves.
For example a job description for a supervisor in casino on cruise
Reports to the senior casino supervisor on board, has no supervisory duties
Responsible for the proper running of various table games – Baccarat, Roulette, Blackjack, Let It Ride, Caribbean Stud, Craps.
Monitor all players at the table to understand their individual playing styles and avoid cheating.
He/she is obliged to notify management as well as ship security personnel if any suspicious behavior is observed.
In the event of a dispute with a passenger it is the casino croupier's duty to attempt to resolve the issue in a courteous and professional manner and will only escalate the complaint to a supervisor
Convert casino chips and tokens to cash, announce conversions and update clicker counters to record cash
Receipts
Make sure players understand the rules of the game, all bets are placed before the game starts, then the game is played, all winning hands and bets are declared, winning bets are paid and losing bets are collected
If designated by the casino manager, he/she will participate in the casino's cash and coin counts
They must be immaculately dressed, maintain decent personal appearance, and follow company policies regarding uniforms and personal hygiene.
Casino dealers on certain cruise lines may be required to participate in passenger and crew safety drills, meet passengers during boarding, and attend company meetings and training events
Croupier training
Croupier training courses at casinos can differ slightly from each other. At Holland Casino, one of the most famous casinos in the Netherlands, you can follow an internal training of 3 months for the games Roulette and Blackjack. If you become sufficiently skilled as a croupier over time, you can learn to supervise several games such as Poker. Expanding your knowledge usually only happens after 3 years working in a casino.
How long does the croupier training take?
The croupier training usually takes one to three months. Remember that the training is quite intensive. Although the duration of the training is certainly manageable, during the three months you will be very busy for eight hours a day. During the training you will not only learn all the rules and procedures, but attention will also be paid to your role as a croupier and the attitude you should have. This is known as the 'hospitality' part. As a host you have to make sure that the visitor has a nice evening. As a croupier you also give tips and answer questions from players,
The croupier training always starts with the basics, such as learning to count and cut, sliding the chips, and of course paying out. If you follow the training to become a croupier, you can host both the Roulette and Blackjack tables. Roulette is about turning the wheel with the cylinder, which has to be done smoothly and skillfully. Players who participate don't want to be distracted by the croupier. The croupier plays a central, but discrete role. When a number has fallen, the croupier puts the Dolly on it.
Croupier and Blackjack
During a game of Blackjack the croupier has to draw cards for himself up to the number sixteen. He has to stop when this is 17 or higher. A croupier usually doesn't take risks. For example, you're not allowed to accept money directly from a player's hands. If a player wants to buy chips, he must put the money on the table in front of him or her first. By nodding he indicates that he wants to buy chips.
Intensive work as a croupier
A croupier earns around 3000 euros per month. Not bad, but remember that this work is intensive. You have to keep your attention at all times. This must not weaken at any time. This is the reason why as a croupier you need to have a break every fifteen minutes. This is not an unnecessary luxury though. The croupier needs this time to recover and to be able to focus on his tasks again during the game. Gambling often involves large amounts of money and that means great responsibility for the croupier. Concentration is key! To make sure that there is always a croupier who is sharp, a group of four works in the casino. Because of this all croupiers get enough rest between the casino games.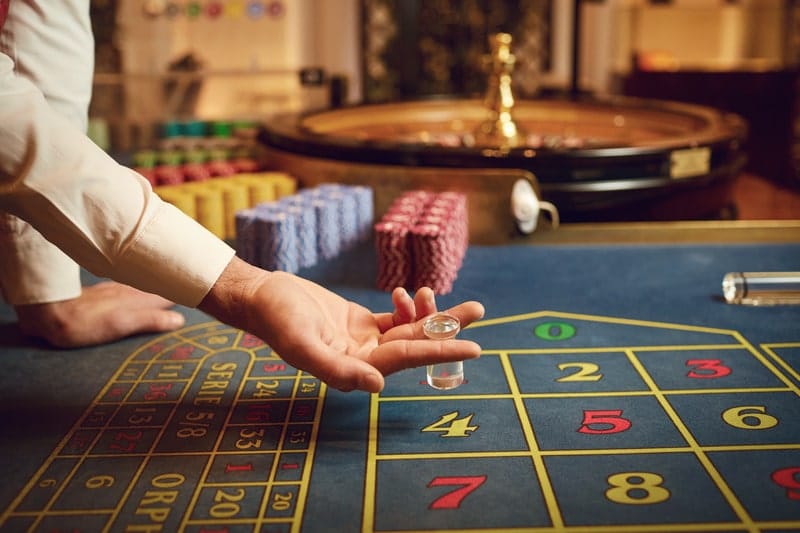 Nowadays there are also numerous live casinos and croupiers also work here. The difference is that in a live casino you are dealing with a virtual connection. Croupiers who work for a live casino are often located in another country, such as Malta where an internal training is also offered. One of the differences between working in an online versus an offline casino is that a croupier in a live casino is more dependent on him- or herself. In a land-based casino, you are much more in direct contact with players at the table.
During a live casino this contact is limited via a chat box. You can't see the players but of course you can talk to them. A live webcam makes it possible to record the movements of the live croupier. You're sitting behind your computer- or phone screen and experience the live croupier in the live casino totally relaxed.