Play your favorite roulette casino game at Holland Casino Amsterdam West
Until recently, Dutch people could only play a game of chance abroad or in an online casino. Online gambling wasn't legal in the Netherlands, and because of that you had to travel a lot to have some fun. Although online Roulette is technically not yet legal in this country, but it will be soon. You do have to wait until 2020 to have some fun with Roulette though. Don't worry: it's possible to play your favorite games of chance 24/7 in a Holland Casino branch in Amsterdam West!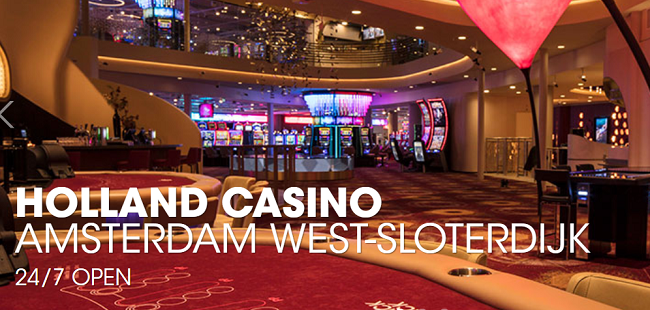 What makes Holland Casino Amsterdam West special?
The Holland Casino branch in Amsterdam West is actually not the first office that is open 24 hours a day. The other location in Scheveningen does the same since last year. However, after 03.00 in the night visitors can only play on the slot machines. It takes some hours before the table games and other games become available again. This is not the case at the branch in Amsterdam West. It's the very first casino which offers all casino games 24/7. So if you like to play Baccarat, Roulette or some other amazing game at 5 o' clock Monday night, this is possible!
No alcohol during a game
If you want to play at this location of Holland Casino, you should be aware that alcohol is not being served. The municipality of Amsterdam has decided that no alcoholic beverages may be consumed at during a casino game. If you want to drink something, you can do so at the bar. You will also have to empty your glass there, because you're not allowed to bring your glass to the roulette table.
Why is no alcohol being served?
The decision of the municipality can be perfectly explained. If you want to start drinking, then a casino is not the best option anyway. Some people are simply not at their best with (too much) alcohol. The casino wants to offer a safe environment where everyone can have fun. For some others it might be a pity, but it's for the best.
Have dinner or a snack in the restaurant Holland casino Amsterdam
The restaurant of Holland Casino Amsterdam has a very good image. Just like all other Holland Casino branches, they also have a very good restaurant in Amsterdam West. As you might guess, the restaurant is closed during a part of the night hours as well. You can visit the restaurant from 07.00 in the morning to have a breakfast, until 03.00 in the night for a dinner or late-night snack. Between these hours it's also possible to order some (small) snacks.
How do you travel to Holland Casino Amsterdam West?
The Amsterdam West branch of Holland Casino is easily accessible by train. However, there are no trains at night. So if you don't live near a station, the car might be easier. Fortunately, you can use the car park twenty-four hours a day, where you can also pay for 24 hours. The cost of this depends on the type of card you have. The prizes are as follows:
Parking without a favorites card: €12,-
Parking with a welcome card or a black card: €9,-
Parking with a platinum card: €5,- or 15.000 points
Parking with a diamond card or a VIP card: free of charge