Play now Alphabet Roulette and be a winner. Betsson is a well-known online casino that offers several popular casino games, including Roulette. Sometimes you can try something new over here as well. Recently the casino added a new game called 'Alphabet Roulette'. It's another version of Roulette and follows in the footsteps of Golden Ball Roulette, Vertical Roulette and Double Ball Roulette. What can you expect from this new game?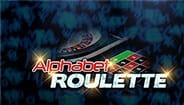 Alphabet you will play it fast
The good news is that Alphabet Roulette is just as exciting as standard Roulette. Everything in the game happens fast. The ball ends up at the letters or numbers before you know it. Perhaps you really like a quick game. You're not the only one, because many players choose the 'quick mode'. This means that Roulette is even played faster.
Differences between Roulette and Alphabet Roulette
There are some small differences between a traditional game of Roulette and the Alphabet version. As the name might suggest, this game works with the alphabet. Instead of number 11 to 36 you play with the letters A to Z. Yes, you've seen correctly that the numbers 1 to 10 aren't letters. The '0' can even be seen as a problem of this game, although the casinos probably disagree. When you play with a 0 and 26 the casino has a house edge of 3,7 percent! This is way more than the house edge of standard Roulette, which is 2.7 percent.
Alphabet instead of letters
Another difference between the games is the fact that it's not possible to place an odd or even bet. Makes sense, since you play with the Alphabet and numbers don't exist in this game. On the other hand, casinos can solve this problem by using vowels and consonants instead. It's not clear why they haven't done this. If you count the letter 'Y' there are 6 vowels and 20 consonants in total. Alphabet Roulette is not exactly a groundbreaking game though. For example, the Roulette wheel is exactly the same. This Roulette game also has the same pay-out percentage as his predecessor and you don't have extra possibilities to place a bet. What's more: there are even less possibilities, so that's a disadvantage instead of an advantage.
Pay-out rates of Alphabet Roulette
Many players take a look at the pay-out rates before they start a game of Roulette. It's not a reason to choose Alphabet Roulette above a standard game of Roulette though, because the rates are the same. For example, you get 35 times your bet if you've guessed the right letter or number. Besides that, you get 17 times your bet for a split bet and 11 times your bet for a street bet. The other pay-out rates of Alphabet Roulette are as follows:
What kind of bet? What do you get?
Corner bet or four bet 8 times your bet
Line bet 5 times your bet
Dozen bet 2 times your bet
Red/Black or the first/second half of the playing field 1 time your bet
Improvement needed
Alphabet Roulette is a promising game, but some parts definitely need improvement. Players aren't happy with the house edge and the pay-rates are nothing new. Besides that, the graphics of this game aren't excellent. Good graphics are something you except from a 2018 game. However, this game is still worth trying because always good to play something new! Try this game at Kroon Casino for example, and have some fun.